$565 Budget Gaming PC Build - November, 2012
Optional Add-ons (pick and choose as budget allows)

Video Card

Taking advantage of AMD's recent "Never Settle" bundle, detailed here, mid-to-upper range graphics processing options haven't been more appealing than currently. Well, for the current gen, at least. XFX currently is offering their Radeon 7850 video card -- which is an excellently-performing card for the price -- with a free copy of Far Cry 3 and a $20 rebate.
The video card has a 256-bit wide memory interface, which is wide enough to efficiently utilize the included 1GB of memory, and also ships at a stock core clock speed of 860MHz. Following our Overclocking Primer will allow you to bump that up even further, though.
With other nearby options being the GTX 560, GTX 650 Ti, GTX 660, and last generation's 6950 and 6870, the 7850 is the clear winner; it blows the competition away at its price-point (check some of the coallated benchmarks here).
CPU

We pay the Ivy Tower and its subsequent Bridge a visit once again, this time using its i3-3225 budget-range powerhouse. Don't let the dual-core nature of this beast fool you: Although Piledriver is opting for a "More Cores. More Speed. More affordable." campaign, more cores don't actually deliver "more speed" visibly within games, and that applies to Intel's i5 series, too. Games are finally beginning to utilize quad-core CPUs efficiently, but we've got a ways to go yet. For now, this hyperthreaded, dual-core option packs the punch necessary to game without bottleneck, allowing the GPU to do its job.
Games push almost all of their complex computations to the GPU these days, and while some calculations still go to the CPU (physics, primarily, some lighting and rendering computations may also route there), most of the workhorse tasks are performed by the graphics chip. As long as we use a CPU that doesn't hinder the GPU -- like this one -- things will run smoothly. If you're performing work-related professional tasks or running games like Civilization 5 and the Total War series, a quad-core CPU will have a more immediately noticeable impact (these games are CPU-intensive, using it to keep track of all the real-time events). Similarly, Battlefield 3 running on a non-PhysX-enabled chip will push a lot of its physics to the CPU, but not to the extreme that Total War / Civ5 stresses the CPU.
The i5-3470 is an excellent quad-core option for cheap. You won't be able to overclock it (especially without a Z77 board), but you don't need a k-series chip for a budget gaming PC.
But what about the new Piledriver CPUs? Should I consider them?
Not really. They're bearable if you're really trying hard to shave off another fifty bucks, but that's pushing it. Unfortunately for AMD and for the gaming market, the Piledriver CPUs are awful at running single-threaded and hybrid single/multi-threaded applications (like games, which switch up CPU utilization on an on-demand basis) efficiently. Anandtech demonstrated the Vishera platform's weaknesses, which are so extensive that the i3 performs on par with AMD's 8-core solutions. See this benchmark: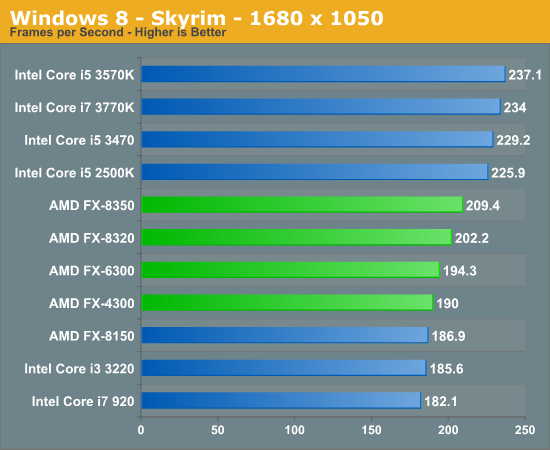 Memory

We opted for some "value" brand memory for this build, as the chipset (H77) will not allow for the overclocking options that a Z77 board will. There's simply no point to getting expensive memory in a budget build like this; storage will bottleneck more severely than the memory, anyway.
8GB of G.Skill's value line is the right amount of RAM for a low price. The timings aren't mindblowing, but they'll run games just fine. This RAM is 1333MHz, and although the board and CPU natively support 1600MHz, it's just another example of something that won't be noticed in gaming. The majority of games will bottleneck at the storage or GPU levels before they hit memory bottlenecks (you can read our guide on finding bottlenecks here).
Have an extra, uh, $2? With the current promo code (EMCJJNJ42), you could get Corsair's prettier Vengeance line of memory, which includes a bit more heatsink than the G.Skill Value line, but it's also not going to change your visible performance. In a Z77 build, I'd recommend the Vengeance series all day long and tell you to overclock it, but when we're building on a budget, there's simply no visible advantage. That said, the Vengeance memory is more transferrable (read: "cannibalize-able") in the event you build another, more powerful system in the near future.
Motherboard

I linked it at the start of the article, but I'll link it again: Our "Do You Really Need a Z77?" post covers modern chipset differences for both AMD and Intel, underlining why the Z77 board may or may not be necessary for your purposes. For a true budget gaming system -- one which does not sport an unlocked CPU, dedicated aftermarket heatsink, or need overclocking -- there's just a lot of unusable functionality in a Z77 chipset. Not useless, just unusable; it's too much power and is disproportionate to most budget CPU capabilities. The H77 chipset is a great option for mainstream gaming: It has all the stuff you need, but cuts out the extras. It's nice to have SSD caching, multi-GPU arrays, and overclocking as options if you can afford another, say, $40-$60, but it's not necessary.
Despite trying to shop around for other options -- ASUS and MSI included -- ASRock came up with the most affordable and feature-packed board, once again. Things are pretty simple on the H77 front: This board's Micro-ATX, so it's a bit smaller to work with, but nothing world-ending, has only 2x240pin memory slots (so 2x4GB or 2x8GB are your choices), and one PCI-e slot at x16. Simple.
If you do plan to use CrossFireX or SLI in the future, you will need a different chipset (Z75 / Z77). This one only allows for one x16 PCI-e card. And if you go that route, might as well get an unlocked CPU, too.
Power Supply

One of the most common PC build mistakes new builders make is way overshooting power requirements. Going over requirements by enough to allow room for upgrades and increase efficiency (drawing 90%+ of the power, for instance, will often be extremely inefficient due to heat) is good, but buying an 800W or 1000W PSU for a 500W system is normally only beneficial for very specific purposes (like keeping it for a decade and re-using it or some serious upgrades/OC).
The build we've put together above will actually only draw in the range of 320W, but to allow for peak load times and give some mobility, we'll buy above that wattage. Of course, most reasonably-constructed power supply options will be 550W+ these days, so we'll overshoot by about twice the average load. Skimping on a PSU is never worth it, especially since the power supply has the potential to catastrophically damage other components in the event of an extreme power failure. For that reason alone, we're sticking to specific standards that we set for all of our builds and opting for a reasonably-made, mid-range PSU.
Rosewill's affordable 630W PSU (with active PFC!) is relatively power efficient, affordable, and ample in power. You can read about PFC and other PSU specifications in our PSU Dictionary.
HDD

As much as I like to recommend SSDs for modern builds, we're going to have to take the practicality route and opt for storage and cost-effectiveness. A standard 7200RPM, 500GB Hitachi HDD will cut it for now. If you happen to have a SATA hard drive floating around that is unoccupied, I'd encourage you to check out some SSD options and get one of those instead (then use your spare HDD as storage). Reading our post about how SSDs are made and our SSD specs dictionary should give a bit of insight to some of their differences.
Optical Drive

Well, they still read discs, and they're still growing increasingly pointless. You might have one of these in an older system that can be salvaged -- and unless you're the type who burns and reads discs regularly, it's worth just pulling the optical drive from an older system.
Case

Corsair's latest 200R series budget case is their first foray into the budget market. At PAX East, Corsair's George Makris told us "if we can't make it right, we don't make it," promoting Corsair's standard for quality. This case offers everything a budgeted system builder will need -- again, to quote Makris -- "doesn't look like a 1980s cartoon robot," and is affordable at its relatively high-quality construction. It even has solid cable routing options, albeit not grommeted (but really, there's only so much we can be picky about at $60).
If you need an OS for your build, Win7 Home Premium is still available at around $100 for the OEM license and Win8 is also out there.
That's all for this build. For questions, help customizing the build, and more specific support, feel free to comment below or post on our forums. We'll get you sorted.
- Steve "Lelldorianx" Burke.